Dr. Lisa Radosta loves Halloween. She dresses up for it, she decorates her home, and she takes her child trick or treating.
The Fear Free certified veterinary behaviorist wants to make sure pets have a good time as well. With a little forethought, it's easy to prepare your pet for the fun. Here's how to have a pet-friendly Halloween, not Howl-o-ween.
Introduce costumes and decorations early. Wear your costume around the house so your dog or cat is accustomed to seeing you in it. Some pets freak out at the sight of a person in a mask, so let them see and sniff it first, and have treats at the ready when you put it on.

Sound is a major part of Halloween. Kids are swishing light sabers, strings of pumpkin lights are blinking, and skulls are saying "Boo!" every time someone passes by.
"All of that is inherently scary," Dr. Radosta says. "You want to condition all that with treats. Pair all those things with something really good."
You don't have to condition pets with food. For Labradors or Border Collies, for instance, tossing a tennis ball or a Frisbee when a decoration makes a sound can be just the ticket to teaching him to love Halloween. Toss cats a favorite catnip mouse or swish a wand toy.
Ditch the doorbell. Cover it up and put out a motion-activated cackling witch or a pressure-sensitive doormat that screams or makes another sound when stepped on. That alerts you to trick or treaters without a ding-dong setting off your pet.
Keep friendly dogs on leash when you answer the door so they don't have a chance to run out. Enlist trick or treaters to give your dog a treat in exchange for their own sweet reward.
Don't let your dog rush out the door at trick or treaters, even if he's friendly. He could startle someone or be hurt by a fearful child kicking at him.
Keep trick or treaters away from the door altogether. Set up a table and chairs in the driveway and hand out candy there. That prevents your pet from reacting to the doorbell and ensures that he stays safely indoors.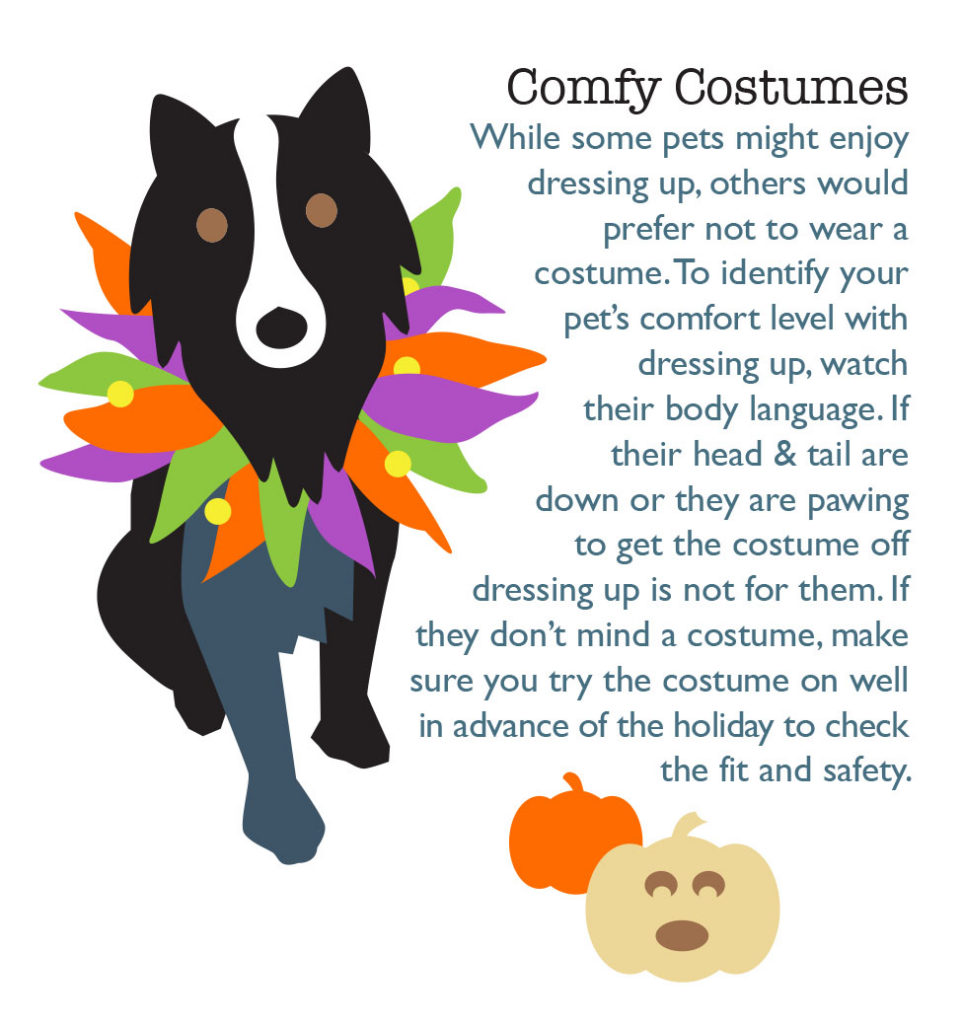 Dressing up dogs? Yea or nay?
"I love dressing dogs up, but some dogs don't want to wear clothes," Dr. Radosta says.
To identify whether your dog or cat has a love or hate relationship with a costume, watch his body language. If his ears are back, his head and tail are down, his pupils are dilated, and he's pawing at it to get it off, he's not having a good time. Let him wear his birthday suit. Try costumes on well in advance of the holiday to make sure they fit and are fun for the pet.
While some pets get into the Halloween spirit, others would rather avoid any interaction with ghoulies, ghosties, and witches. For fearful pets or those who burst into frenzied barking at the sound of the doorbell, Dr. Radosta has one piece of advice: Send your cat on a staycation in a safe room with litter box, bed, toys and food or your dog on a vacation at a comfortable kennel where he can relax away from costumes and commotion.
"Sending your dog away for stress is not a bad thing," she says. "Dogs don't like everybody, and that's okay."
Share this Fear Free Halloween Infographic to make this Halloween Fear Free!
Download here:
PDF or

JPG