5 Seconds Of Summer's Michael Clifford Proposes to Longtime Girlfriend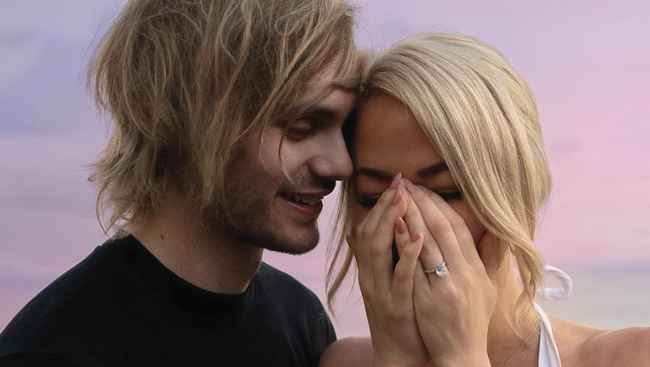 Crystal Leigh's life was about to change when she trekked to Bali with her boyfriend Michael Clifford on January 11th. The two decided to spend their third anniversary at the same place they shared their first kiss: Ungasan Clifftop Resort. It was there, at sunset, that the 5 Seconds Of Summer guitarist asked Leigh to marry him while the couple was having a picnic. "Medicine" from The 1975 was playing in their tent, just as it was when they got together three fateful years ago. Before he popped the question, the 23-year-old scattered photos of special moments from their relationship across the blanket. Us Weekly were able to share the moment with the couple and share some beautiful, exclusive photos of the proposal.
The Australian musician also shared the news on his Instagram account.
"I was lucky enough to ask the love of my life to marry me in the place it all began for us," he wrote alongside a series of engagement photos. "In the last 3 years she has helped evolve and shape who I am in ways I could never have imagined. I couldn't ask for anyone better to spend the rest of my life with. I love loving you, Crystal."
Check out his heartfelt post below.